ESS conducts ongoing research and development in several areas. We are developing new solutions to assess the structural health of infrastructure such as roads, bridges, railroads, dams, and levees. In addition to assessing the health of existing structures, we are particularly interested in methods that improve quality and safety during construction.
We also have significant experience in borehole geophysical methods and making measurements from drill strings. The horizontal directional drilling industry is growing rapidly, where trenchless technologies are used to install cables and pipes in urban areas. And tunnel boring machines create tunnels for subways and municipal water lines. To support these industries, ESS is working on technologies to enhance subsurface navigation, to measure properties of soil, rock, and fluids, and to locate potential obstacles such as boulders or existing utilities.
A brief portfolio is presented below.
GPR for Utility Detection
ESS is developing GPR hardware and software for the utility detection industry.  The ESS Utility Scanner has been designed to find even the deepest targets while still providing high-resolution results. The unit provides one of the most diverse sensor suite on the market today.  It can be used to locate rebar, power lines, cables, conduits, pipes and voids.  Dual frequency GPR antennas produce high-resolution scans without sacrificing penetration depth. The 750 MHz antennas sense objects to approximately 6 feet depth, while the 350 MHz antennas detect objects as deep as 12 feet in typical soil conditions.  Advanced analysis and reporting software provide cross-section views, depth slices and 3D views.
Dual Frequency for High Resolution without Sacrificing Depth
Advanced Software: View 3D results and mark detected objects for interactive visualization and export to DXF.
Rich Reporting: Create PDF and image output with Google Maps satellite imagery.
Powerful Tablet: The included Microsoft Surface Pro enables analysis and reporting in the field. No second computer necessary.
No cables to get frayed, and no damaged or dirty connectors to replace.
Easy Charging: The shipping case's integrated charging system simultaneously charges the tablet and both batteries.

GPR for Assessing Railroad Ballast Health
ESS has been working with the Federal Railroad Administration to develop GPR systems that assesses the health of railway ballast material (i.e., the support structure under the rails and ties/sleepers).
Provides real time fouling and moisture estimates.
Man portable (< 30 lbs).
Easy to operate. Special training not needed.
Obtain immediate results in problem areas.
Integrated ground penetrating radar and global positioning system.
Produce ballast condition reports in the field without waiting for analysis.
Experimental program: more than 75 ballast sample collected from revenue service track.
Neural network trained on laboratory analysis of collected samples.
Mean squared error between laboratory results and RABIT estimates: Fouling: 7.5%, Moisture: 1.5%.
Shallow measurement 0-8". Deep measurement: 8-16".
The images below show the instrument, a software screenshot, and the performance (respectively).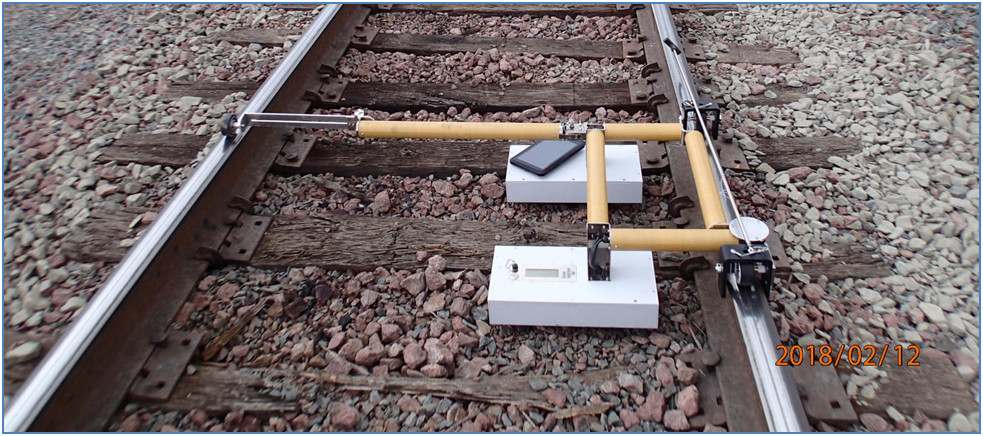 GPR for Scanning Roads
ESS developed a high-speed GPR system for scanning roads and highways using sensors mounted on vehicles.  This was part of the National Institute of Standards and Technology's VOTERS research project that was managed by Northeastern University.  A GPR was designed and built that could scan roads and bridge decks from vehicles moving at highway speeds.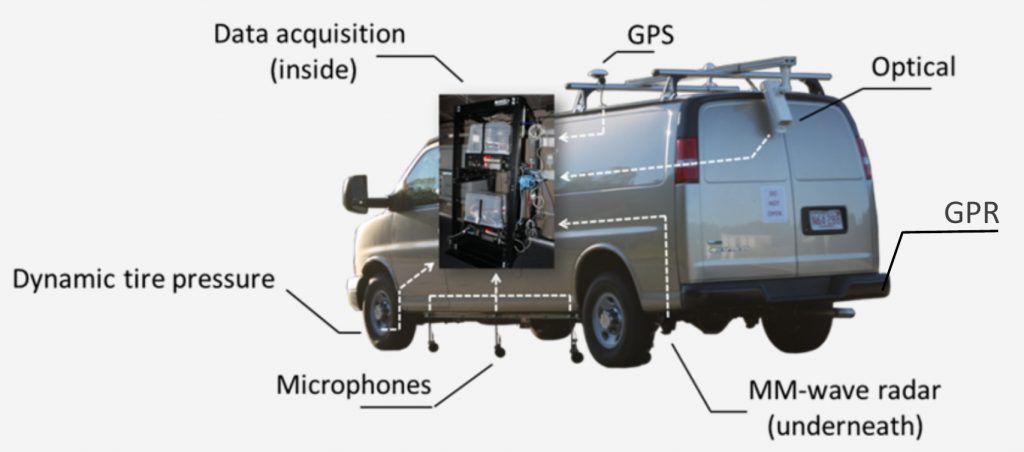 Airborne Magnetotelluric Sensors for Planetary Exploration
ESS was contracted by Southwest Research Institute and NASA to build an airborne instrument for making magnetotelluric measurements.  The technique can be used to investigate the subsurface of planets from orbiting spacecraft.  The first row of pictures below show how the instrument was packaged as a towed bird and flown with a helicopter.  The second row of images shows a weather balloon and a view of the instrument package below the balloon from an altitude of 100,000 feet.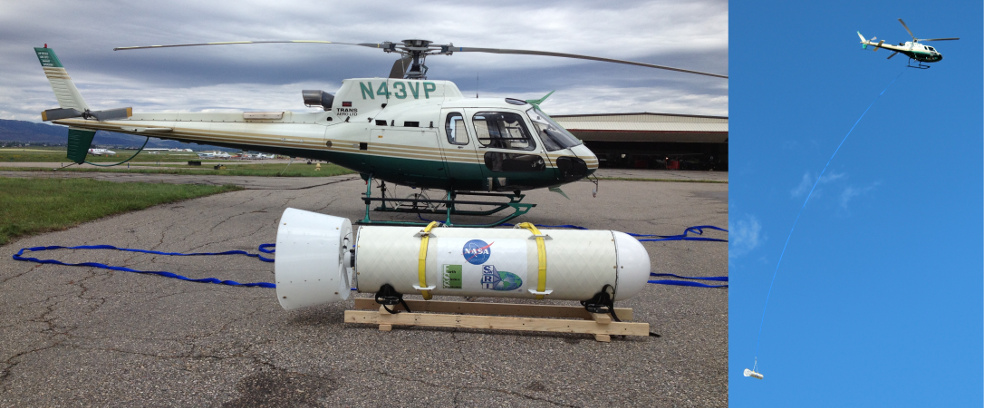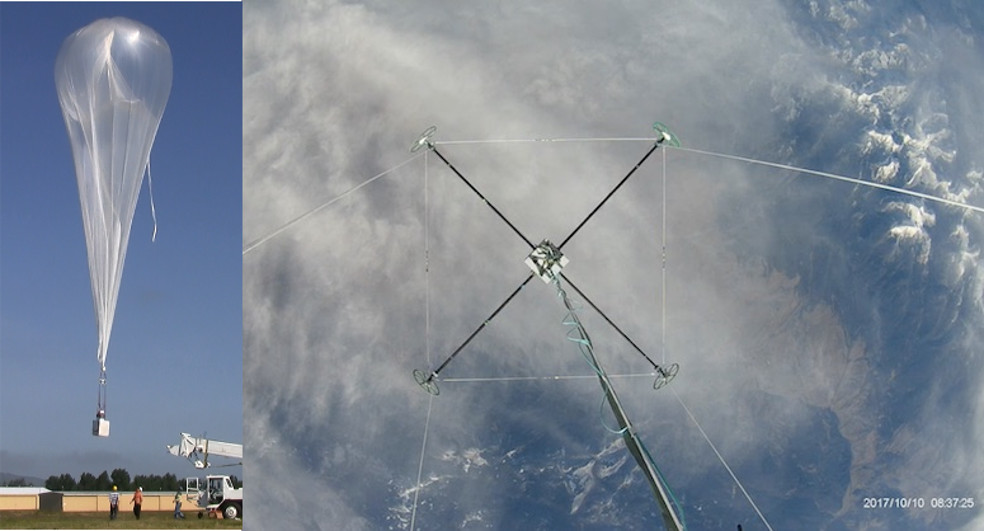 Mars Rover
ESS was contracted by Southwest Research Institute and NASA to build  GPR system with low-profile antennas that could be placed on the underside of the rover.  By placing the antennas on the bottom of the rover, the large foot print of traditional air-coupled GPR antennas is avoided — enabling the inclusion of GPR in rover missions. In the picture below, the prototype antenna system is being tested in the laboratory.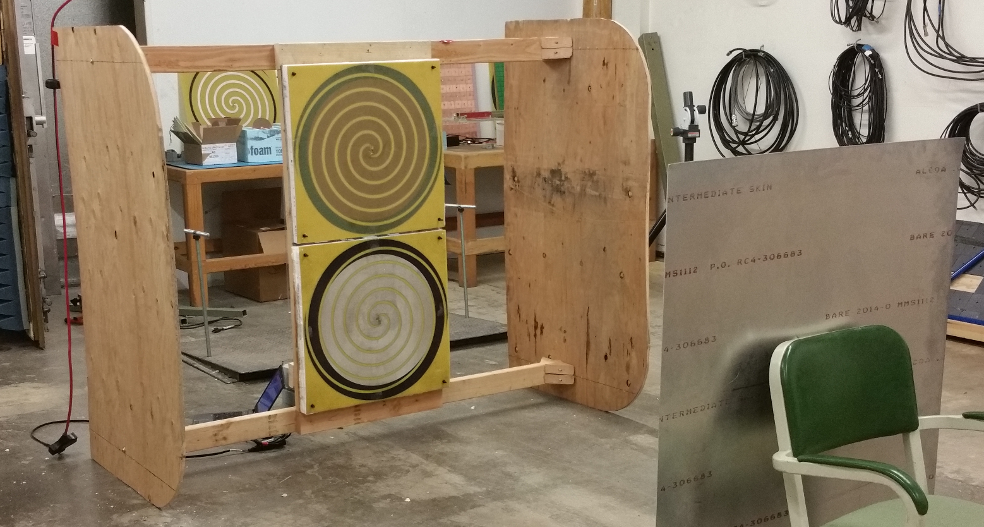 Unexploded Ordnance Detection and Characterization
ESS has worked with the Strategic Environmental Research and Development Program (SERDP) and the US Geological Survey to develop instrumentation and algorithms to detect and characterize unexploded ordnance. These instruments use magnetometers and active electromagnetic sensors to excite eddy currents in subsurface metallic objects.  Analysis routines were created to conduct a physics-based analysis of the the sensor data and characterize the subsurface targets.  This technology greatly reduces the cost of cleaning up formerly used defense sites (i.e. bombing ranges) because it distinguishes between and dangerous subsurface munitions that require remediation and inert objects that can be left in the ground.  The image below on the left shows how different sensor coil arrangements respond differently to a buried target.  The image on the right shows the characteristics of the buried target obtained by analyzing the images on the left.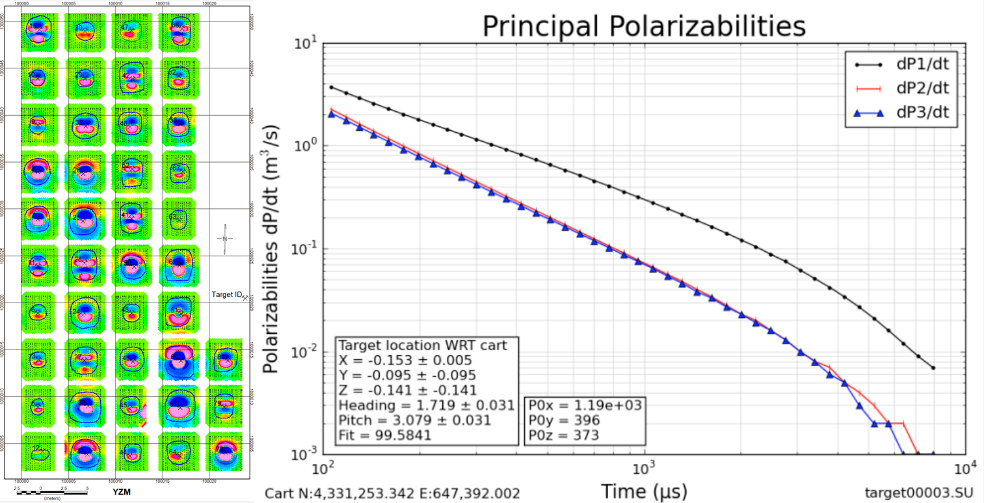 Downhole Sonic Probe
Our scientists have designed and built downhole sonic logging systems for measuring the seismic properties of materials around a borehole.  The system includes a power supply and telemetry surface module, a winch, and a downhole probe.  The three pictures below show 1) a surface control module, 2) a downhole probe (disassembled for shipping), and 3) a typical sonic data presentation indicating compressional, shear, and Stoneley wave velocities versus depth.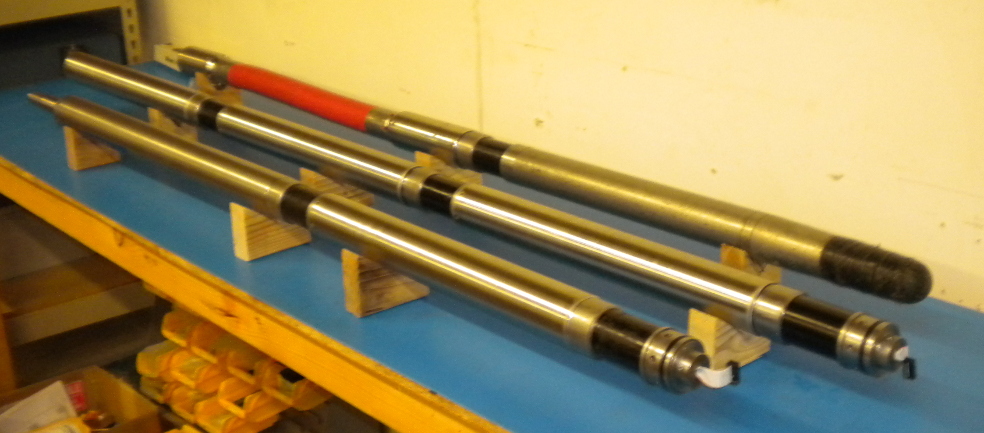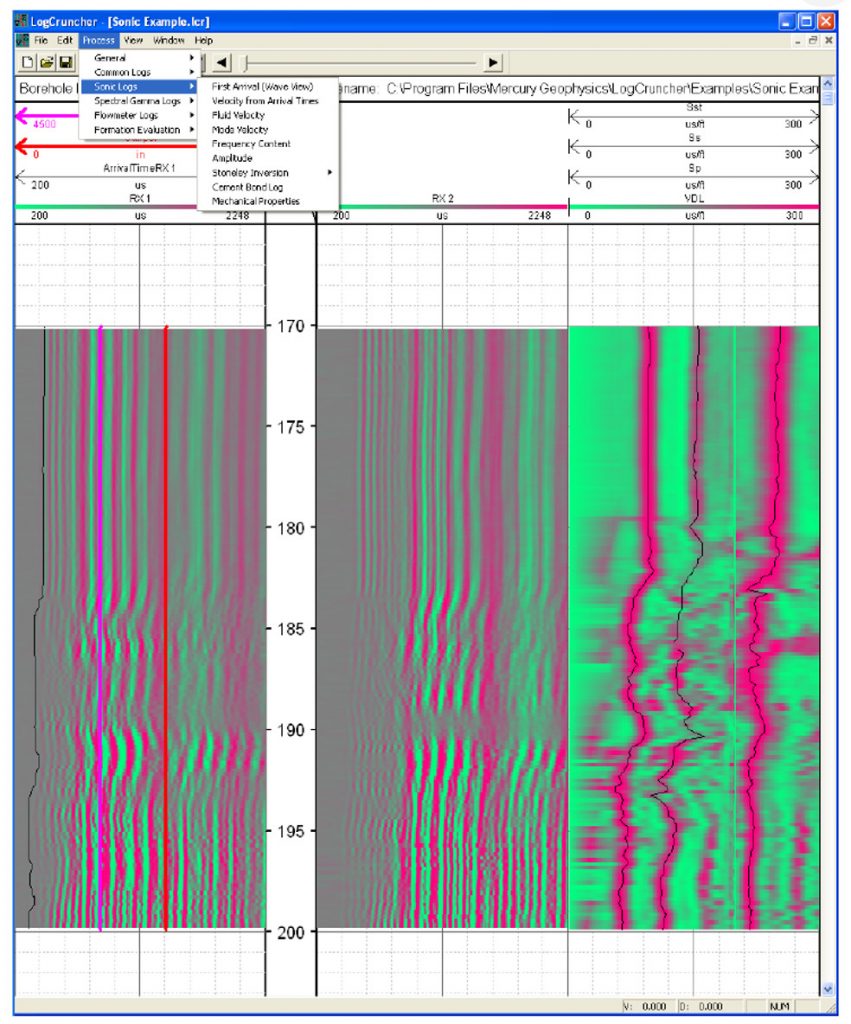 Subsurface Navigation for Horizontal Directional Drilling
ESS has design several systems for subsurface navigation from boreholes or horizontal directional drilling rigs.  We are actively developing new products for this industry.  The rack mount equipment and downhole probe sections below are typical of such systems.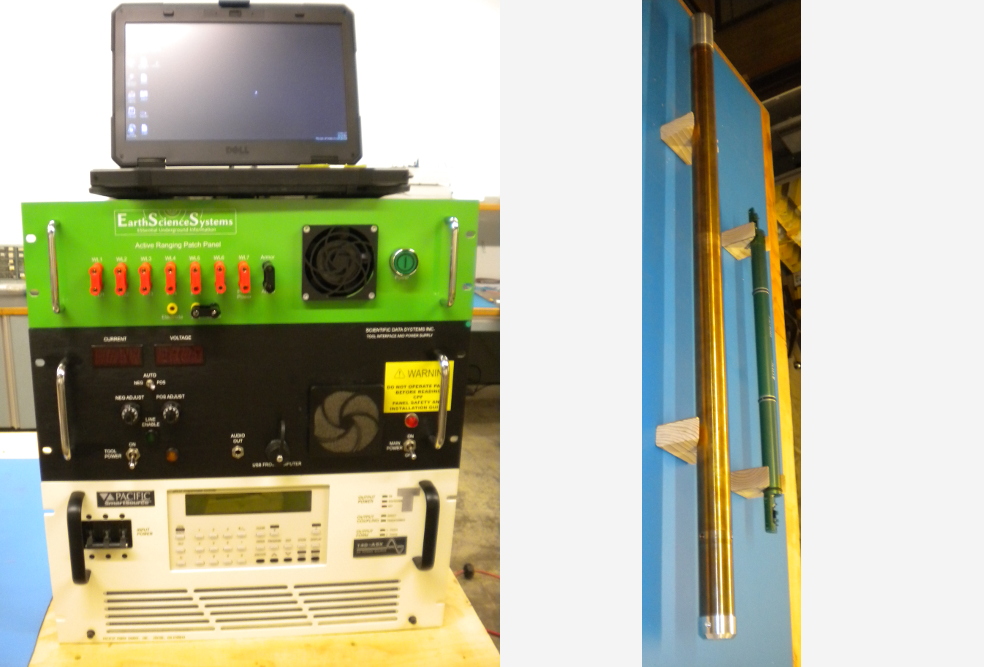 Publications
For a list of publications, click here